Ajman
Internet satellite - Fixed Vsat C-band & Ku-band
Le service par satellite le plus populaire au Ajman est notre service Vsat iFast. C'est un accès de qualité à l'Internet proposé directement à partir de notre téléport privé situé en Belgique, à proximité de Bruxelles. Nous offrons non seulement une connexion internet fiable par satellite, mais aussi une large gamme de services supplémentaires et développements uniques qui nous permettent d'offrir une connectivité très abordable et flexible en terme de service et abonnements. C'est la solution idéale pour démarrer votre réseau dans votre nouveau site (mines, agriculture, bois, etc ...).


GlobalTT fournit de l'internet par satellite au Ajman avec les services suivants:
Accès à l'internet à haut débit par satellite
Accès partagé et/ou dédié
VSAT (V-SAT) Private Network,
SCPC / SCPC, DVB-S2 ACM
Services de radiodiffusion,
SVNO (VNO) et beaucoup plus.
Internet satellite Vsat - Vehicle – Maritime FlyAway – SOTM – Aviation
GlobalTT, téléport par satellite, station terrienne privée, est située en Belgique, à proximité de Bruxelles et offre la technologie Vsat iFast, utilisée dans des endroits (le Ajman) où la connexion Internet terrestre et / ou l'accès vocal sont assez peu disponibles, peu fiables, de faible qualité et non sécurisés ou pour des raisons de confidentialité. La communication par satellite est disponible dans le monde entier mais principalement au Ajman avec nos trois (3) fortes couvertures en bande Ku ; en ce compris pour du maritime, des véhicules terrestres mobiles. Et surtout pour la terre fixe comme utilisation d'une base fixe pour les petites et moyennes entreprises (SOHO / PME) et le secteur de l'industrie en général au Ajman.
GlobalTT, comme fournisseur professionnel de services Internet, offre des services d'Internet et de téléphonie dirigés vers tous les types d'utilisateurs : des utilisateurs finaux aux FAI et aux opérateurs de télécommunication au Ajman.

Vsat technical solution – WIFI – LTE - Radio Link – WebCam UHD
GlobalTT fournit au Ajman de nouveaux services mobiles et portables. La solution BGAN offre une couverture de réseau à travers la plupart des terres émergées de la planète. Les utilisateurs sont en mesure d'obtenir l'accès Internet à large bande partout où ils vont, et pas seulement dans les grandes villes ou les aéroports. La solution BGAN est actuellement accessible au Ajman, en Europe, en Afrique, au Moyen-Orient, en Asie, et en Amérique du Nord et du Sud.
Le VSAT iFast est adapté pour une solution permanente, une base fixe ; il est au min. 50x moins onéreux en terme de service récurrent et 2x moins coûteux en terme d' investissement d'équipement par rapport au BGAN. La solution BGAN est un peu plus chère en terme d'investissement, mais est habituellement, au Ajman, moins chère que le 3/ 4G. Cette solution est totalement portable, fiable et extrêmement facile à installer et à utiliser. Cette technologie est parfaite pour un court séjour ou pour du back-up
MSS satellite phone and portable internet - Iridium - Thuraya – BGAN -….
GlobalTT provides in Ajman new mobile & portable internet services. BGAN delivers seamless satellite network coverage across most of the world's landmass. Users are able to get broadband internet access wherever they go, not just in major cities or airports. Satellite BGAN is currently accessible in Ajman, Europe, Africa, the Middle East, Asia, North and South America.
Usually the satellite VSAT iFast in Ajman is better for permanent base fixed station, where it is at least 50 times less expensive in usage and twice less expensive in investment than the GlobalTT BGAN, where the satellite BGAN is a little more expensive in term of investment but is usually in Ajman much cheaper than the 3/4G cell phone and fully portable reliable, independent of the country you are, and extremely easy to set-up and use.

This technology is perfect for short stay or back-up
All industries are covered by our internet satellite solutions and portable satellite Solutions
GlobalTT is a Private satellite Teleport and satellite communication Earth Station located in Belgium Brussels offer Vsat satellite internet technology which is used in locations (as Ajman) where a terrestrial Internet connection and/or voice access is not available, not reliable, not good enough, or for security/privacy reasons. The communication via satellite is available worldwide but mainly from our two(2) very strong Ku-band footprint and one(1) C-band, in Ajman including maritime vessels application at sea, mobile land vehicles. but mainly for land fixed based fixed usage for Small and medium offices/ enterprise (SOHO/SME), as well as the industry and corporates in Ajman.
GlobalTT as a Professional satellite Internet Service Provider offers the internet and all applications such as VOIP, VPN, VLAN, WebCam, Email, ERP, CRM, and DBSynch, but also WIFI long range, WiMAX, Microwave radio link Point to Point, services directed towards all types of users from end-users to ISP's and Telco's in Ajman
Internet by Satellite in Ajman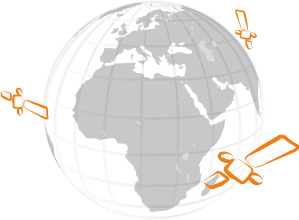 Vérifiez la couverture au Ajman !
Dedicated High Capacity