Online platform (E-Platform) to manage your station entirely:
On-Line-Monitoring & Management of your station: speed, volumes, protocols, number of open connections, subscription, available account credit and debug information;
Subscription date, price, invoice & payment (Bank Wire or PayPal) – Online
All necessary documentations (dish manual, technical info, software to re-aim the dish, …);
Station Levels and tools to fine tune in real time;
Many more available…

Dual(2x) speed off-peak time
Your local off-peak time
You get twice(2x) the receive speed automatically
Working daily and the full WE Saturday and Sunday
This feature is unique and the speed is changed and adapted for offering twice the receive speed daily , all manage by our server
This feature and added value is unique
trace your IP traffic;
check your satellite Internet speeds
consult the V-Sat online technical solution / troubleshooting list
remotely do a level measurement (eB/No) of your V-Sat antenna
download free helpful softwares that have all been tested and validated by GlobalTT:

Anti-virus
Spyware
removes the little spy and dangerous programs
Disk and register cleaner and repairer
Monitoring system
allows you to see the applications opened on the computer and what they are using
Disk defragmenter system

A "ping" tool is available on GlobalTT's website. It helps you validate that your broadband Internet connection is working and enables you to test the delay of your satellite connection.
Monitor easily your satellite Internet connection on our
Global Interface
(subscriber web page):
Get graphs with your bandwidth, the protocols opened and the number of used Gbytes per application.
Monitor all IP traffic
Track all IP traffic
Have a clear view of the used and remaining Gbytes of your quota subscriptions.
The Satellite Virtual Network Operator is a GlobalTT.com service for active resellers (only).
With a webinterface hosted by the GlobalTT server, you appear as a satellite operator and manage your clients' broadband and Internet consumption.
Reseller will control remotely the GlobalTT ground station
Free access to the service
No investment
The full platform is now available and working for you under YOUR name
Plug and Play modems: fully configured, no loading needed
Prepaid subscription management
Monitoring tool management
Debugging tool management
All names, logo will be under the label, the color of the reseller who's the "S.V.N.O.®"
Activate your V-Sat when YOU want to ! No appointment required to activate a SkyOne-IP / iFast station
Self V-Sat alignment
Find easily the best levels (Eb/No)
Receive automatically a written confirmation (e-mail) from our Teleport server for the type approval-commissioning/activation of your V-Sat station
Service operational 24/7 (anytime, any day, no appointments, no phone calls, no e-mails, no relation with a NOC)
Access the service even from the remote V-Sat you need to activate.


Your satellite Internet subscription is activated immediately.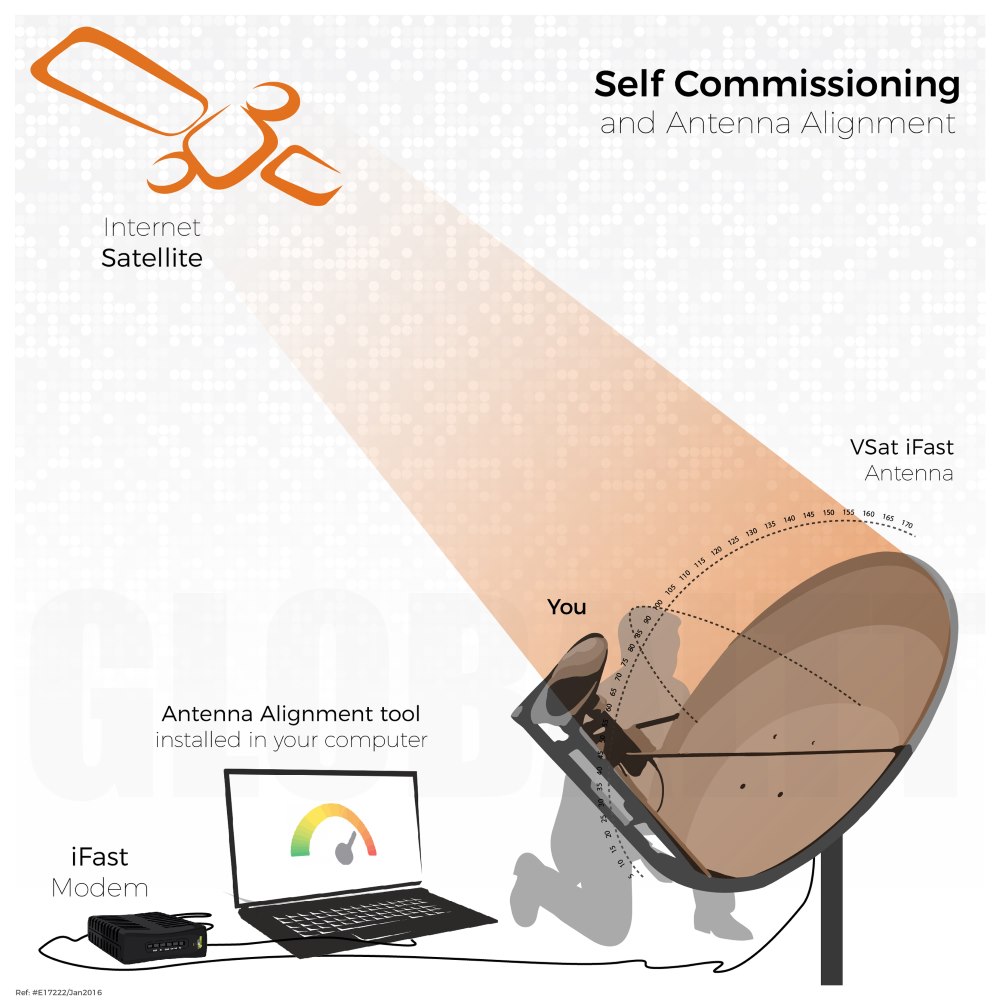 Your broadband use has changed and you require a subscription upgrade ? We give you the possibility to do
3
free
subscription tests.
Conditions :
Only towards 3 different higher subscriptions then yours ;
Tests are available once every 6 month but condition falls if you upgrade your satellite Internet subscription inbetween ;
Tests take place three days in row ;
All tests start at the same time each day and for 6 hours each;
Tests are not available for expired service/subscriptions.
Longer subscriptions tests (3, 4 or 5 days).
For one subscription.
For multiple subscriptions behind a Vsat (up to 8 sub-Vsat).
Enables many different LAN links with separate IP and rules.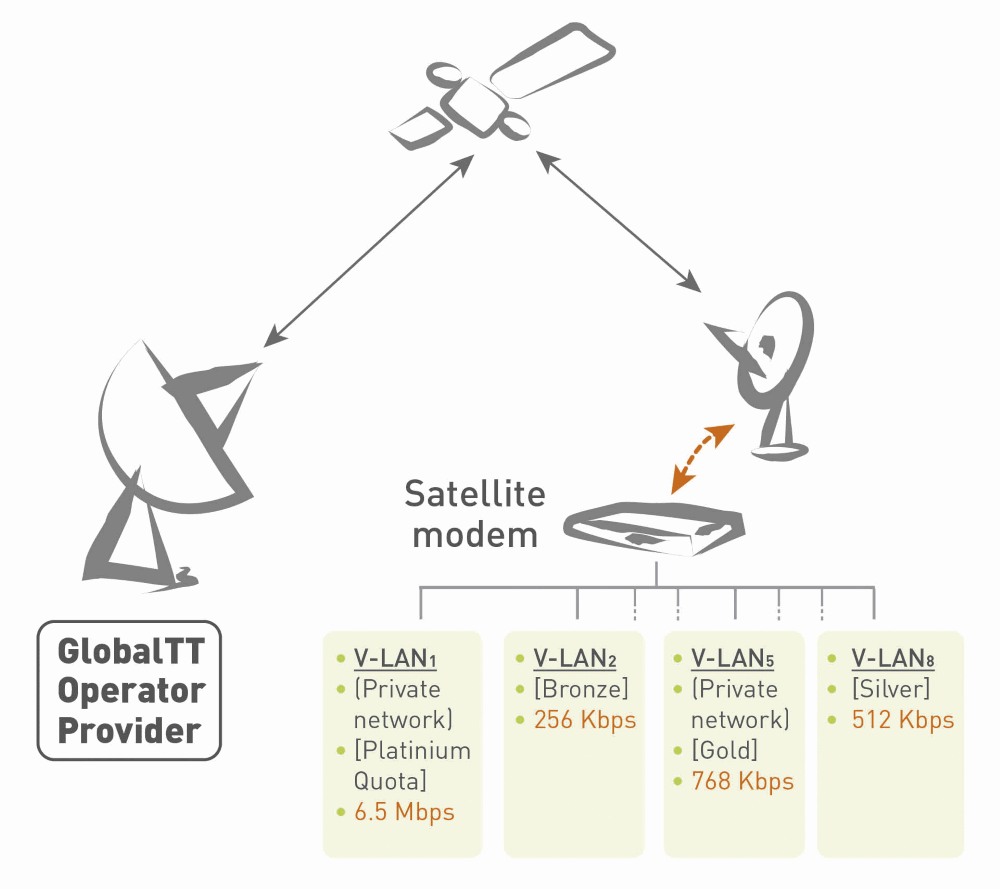 Credit card and Paypal payments will soon be available for any transactions like equipment or service purchase
The Cisco® IP V-Sat Module +
GlobalTT
combination provides a complete hardware and broadband connectivity solution. The solution is composed of a Cisco satellite network module hardware component that is integrated with a Cisco router and a network service subscription offered by
GlobalTT
.
The Cisco IP V-Sat Module solution as a
back-up/disaster recovery
connectivity available on V-Sat, with near-instantaneous switchover time.
Purpose
Redundancy
Back-up
Security
Reliable regular Internet leased or shared access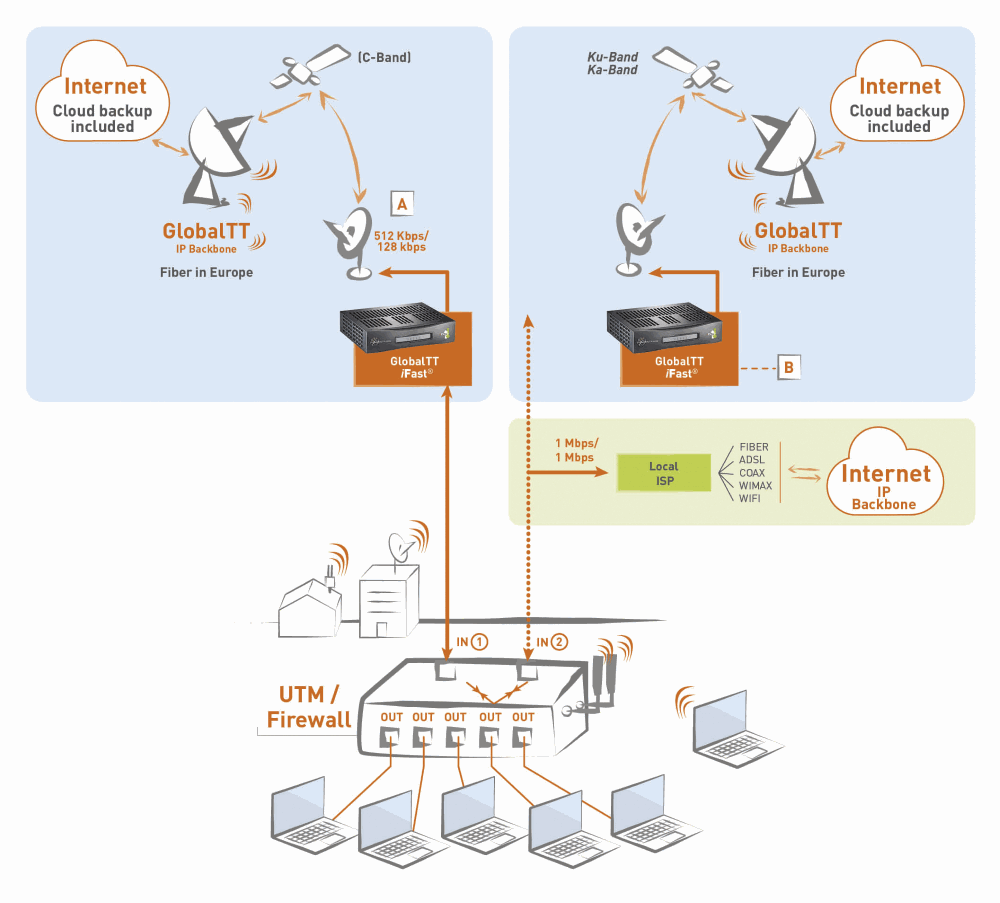 One of your modems has been struck by lightning and you have another modem in stock/not used?
We allow
modem swaps
so that:
You are back online as soon as possible;
You continue with the same broadband subscription, with the same end dates, etc.
Only available between stations of a same customer
.
24hrs initial access then by 6 hours blocks
Stop anytime
Pay only what you use
Available only on our iFast African Ku network
Do you sometimes want to authorize the Internet access for specific applications only ?
Our
Access list option
is the solution !
Option giving a limited access
Choose and reduce the usage of the Internet access to:

Some specific "ports"
Some specific "days"
Some specific "hours"

Access only to (as an example):

SMTP
HTTPS
specific IP address and specific websites
specific applications
Dedicated access service, connect to the GlobalTT HotSpot Captive Portal (Long or Medium Range) to offer rural wireless broadband.
Features [ WiFi ]
600m Range ( Line Of Site) / 1.2km with repeater
Prepaid Internet Access
Same Pin Code / Scratch Card / Voucher for travellers
Secure access
Roaming available between V-Sat HotSpot sites
Features [ WiMax ]
20km Range ( Line Of Site)
Frequencies ( 2.4 , 3.6Ghz, 4.9Ghz, 5.8Ghz, ... )
Bandwidth Management
54Mbps aggregate
CPE required (Client equipment)
Prepaid Voucher-card / Code
View Hardware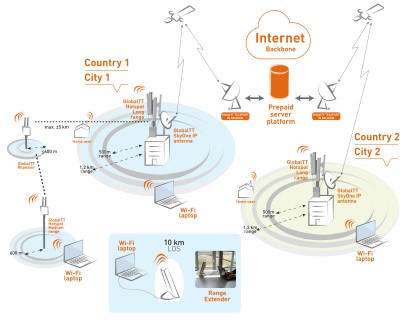 A point to point communication.
The communication is encrypted when it passes through the Internet
GlobaltTT provides you totalsecurity with special rules for your VPN only
Nobody else except you can access into your VPN !
=> It's totally secured
The Public IP option replaces the Private IP address
The first 4 Public IP addresses are static, so only 1 is available for your LAN
Possible 4 extra Public IP addresses available (only with GlobalTT's agreement)
Intended for a group of V-Sat in a company on the same footprint.
It guarantees a very high quality of service for this group.
Satellite access connection available just in case the other existing Internet solution fails.
3 different speeds available (1Mbps, 2Mbps or 3Mbps).
Increase your speed , do an upgrade on your existing subscription for a couple of days only
Get the extra capacity on-demand when necessary
No longer pay a full subscription, 100% of the time
In case you do not need the upgrade anymore we refund you.
This feature is unique and manage from our subscriber web interface
Accessible from any internet connection and from your iFast vsat as well
!!AV0_10_CONTENT!!